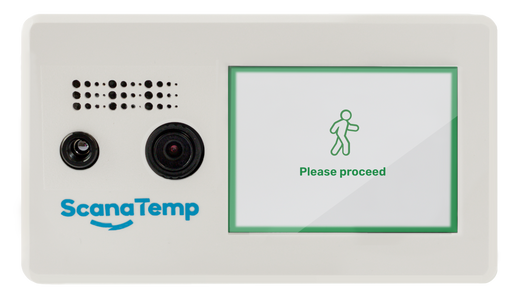 See our most frequently asked questions answered by Security.org
Frequently Asked Questions
What's the difference between ScanaTemp and a handheld thermometer?
Handheld thermometers do not allow for proper social distancing as they require human interaction where the reader must hold the thermometer within six inches from the person they're scanning.

ScanaTemp promotes social distancing by taking temperatures and detecting the use of face masks automatically from up to five feet away using voice & visual notifications without the need for any human interaction.
Do you offer bulk discounts when ordering multiple devices?
Yes! When you buy 3 or more devices, a 10% discount will automatically be applied at checkout.
Does ScanaTemp support other languages?
Yes. ScanaTemp has 10 different voice style in 9 languages:
· Arabic
· Chinese
· English (US and UK)
· Farsi
· French
· German
· Hindi
· Italian
· Spanish
The menu can be operated in 5 different languages:
· English
· French
· German
· Italian
· Spanish
How do I mount ScanaTemp on a table or wall?
What is your return policy?
Do you offer wholesale opportunities?
Yes! Aside from offering a 10% discount on all orders of 3 or more, we are also happy to discuss wholesale opportunities with larger-scale customers.
Please email us at info@scanatemp.com to learn more.
Who is behind ScanaTemp?
When the pandemic hit, the team at ScanaTemp galvanized to support essential businesses. Initially, ScanaTemp was created to support schools and essential public spaces such as food banks and libraries. Today, it is used to support all kinds of small to medium-sized businesses by providing a temperature data point and face mask detection to protect their staff and service their customers. It does this with no human contact and ensures social distancing.
The engineers of ScanaTemp used the latest visual infrared (IR) technology to connect to an HD camera that detects faces and measures the face temperature. They were also adamant that the device and its touch screen display be so user-friendly that set up can be done within minutes, all while keeping it at an affordable option for businesses of any size.
ScanaTemp is trademarked and is a US registered LLC. The team of executives, engineers, support staff, and sales professionals are all US-based. ScanaTemp is designed and built in Pennsylvania and California.
What is ScanaTemp's accuracy when taking a temperature?
Where is your product made?
ScanaTemp is designed and assembled in the USA with components from Belgium, China, and the USA.
Who can I contact for technical support?
For any support issues or for any questions about operating your device, please contact our support team at support@scanatemp.com.
Where is ScanaTemp shipped from?
ScanaTemp is shipped from Pennsylvania and California.
What are the dimensions of ScanaTemp?
4.75" x 2.75" x 1.25"
(Length x Height x Width)
What if I still have questions?
We're happy to help! Please feel free to contact us at info@scanatemp.com with any additional questions not answered here.
You can also reach out to us by mail at
ScanaTemp LLC
PO Box 1528
Skippack, PA 19474