ScanaTemp Mask Detector with Temperature Scanning
Regular price

Sale price

$595.00
Order 3 or more to get 10% off your order!


Safely and automatically detect whether a customer has an elevated temperature and is wearing a mask with Scanatemp. Our no-contact scanner can take an accurate temperature from up to 5 feet away in under a second to keep the line moving. Using friendly voice and visual notifications, ScanaTemp will tell customers to put on a mask and warn them if they have an elevated temperature so staff doesn't have to. Our device also has the ability to deliver instant notification of an elevated temperature along with hourly and daily reports on activity.
Choose from a variety of display modes:
Traffic Light: Friendly visual notifications alert you and your customers of an elevated temperature and reminds customers to put on a mask if they are not wearing one. This mode is great for noisy settings and accessibility.
Normal: Displays a live feed from the camera so customers can see ScanaTemp in action. This mode shows the customer's temperature beside their face.
Privacy: Displays a live infrared feed from the camera with a temperature reading next to the customer's face all while maintaining privacy.
Included in your box:
Easy-to-install table stand and wall mount
USB power cord and adapter
Designed and assembled in the USA with components from Belgium, the USA and China.
ScanaTemp has 10 different voices in 9 languages:
· Arabic
· Chinese
· English (US and UK)
· Farsi
· French
· German
· Hindi
· Italian
· Spanish
ScanaTemp's menu can be operated in 5 different languages:
· English
· French
· German
· Italian
· Spanish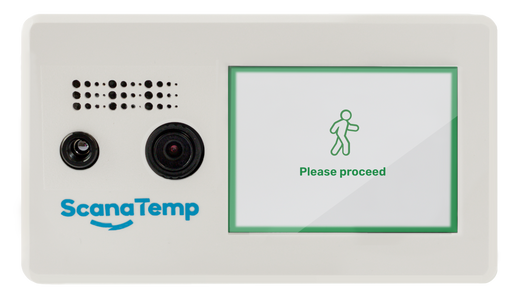 See our most frequently asked questions answered by Security.org
Key Features
Uses thermal technology to take temperature in less than a second

Touchless accuracy from up to 5 feet away


No network connection needed

Mask detection will notify customer to put their mask on

Table and Wall Mount included

No facial recognition ensuring privacy for all users

What Our Customers are Saying
Both staff and visitors have commented that they feel safer with the remote scanning rather than a hand-held scanner which requires close proximity. Installation was a breeze and the ScanaTemp staff was very helpful.
David
Director of 6 Libraries in Southern Pennsylvania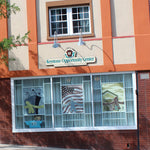 ScanaTemp has made our office safer and given us more confidence in being open because it improves employee and volunteer compliance with temperature scanning.
Arlene
Executive Director of Opportunity Center, Souderton, PA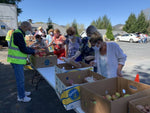 No one minds the daily scan of their temperature because it is quick and does not involve another person. They are amused by ScanaTemp's cheerful appearance and reassured by the ease of operation and the quick audio report.
Suzan
Executive Director of a Food Bank, Lansdale, PA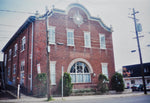 We love the verbal reminders! ScanaTemp has allowed for visitors' temperatures to be checked while maintaining social distance. With it, we feel more confident in offering in-person instruction to our students.
Jennifer
Director of Education at a school in Southern Pennsylvania
Swipe for more testimonials
How ScanaTemp compares to other products
Does not sense if person is wearing a mask
Requires human interaction
Reliant on a strong wifi signal
Designed and produced overseas
Affordable but costly to operate with an extra employee needed
Has mask recognition
No extra employees needed
No facial recognition and privacy issues
Doesn't rely on wifi signal
Designed and built in the USA
Affordable price
Camera Based Thermal Scanner
Has Mask Recognition
No extra employees needed
Creates privacy concerns for customer
Reliant on a strong wifi signal
Designed and produced overseas
Often expensive